Why Heineken beer so popular worldwide?
Share
Issue Time

09-29-2018
Gerard Adriaan Heineken wanted to create a clean lager beer, and started brewing the Heineken beer in 1873 at an old brewery in Amsterdam. After years of hard work, it became Holland's first premium lager beer.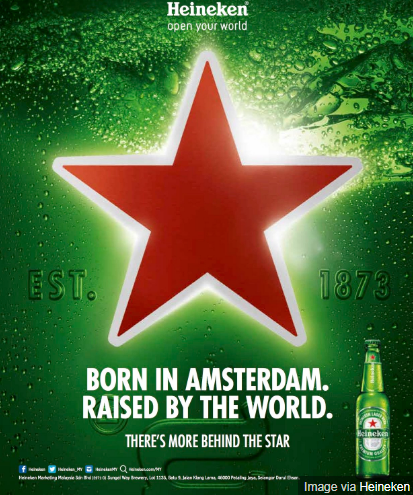 And 142 years later, it became the world's number one international premium beer.
So what is it that makes Heineken so popular? It's because they do things differently:
1. The Heineken you order in Malaysia tastes exactly like the one in the Netherlands
They taste exactly the same. For real. Not just in Malaysia, but across all 192 countries where Heineken is available. That's because they will send a sample of the beer produced in each brewery back to the Netherlands for inspection.
And that's how they make sure you get the same quality of Heineken no matter where you are.
2. They brew their beer longer than others
The average beer brewing process stops after two weeks. However, at Heineken, they brew their beer for a solid 28 days!
Why? This is so that the beer gets that beautiful golden-yellow colour and a refreshing taste.
3. They only need three natural ingredients
Yup, just three! All they need are malted barley, hops, and water. But they have to be really pure and natural.
4. There's also a bit of magic that goes into the brewing process
That magic is called the Heineken A-yeast, which was discovered in 1886.
The A-yeast is added to the mixture of the three natural ingredients to initiate the fermentation process, and removed when the process ends after 28 days. This is is how Heineken beer gets its signature balanced, crisp, and rich flavour.
5. Every batch of beer brewed must get the seal of approval from Heineken's Master Brewer, or else...
According to Heineken's global Master Brewer Willem van Waesberghe, every batch of Heineken beer brewed must be inspected, tested, and approved by their Master Brewers before it goes to the stores and bars.
If a batch of beer is rejected, then they'll have no choice but to go through the 28-day brewing process again.
6. And it takes 15 years to be a Master Brewer
Think you have what it takes to be a Master Brewer? You gotta train for 15 years to be one.
The Heineken beer recipe has been the same since it was first brewed in 1873, and the Master Brewers are the ones who guard it.
7. To get the correct foam level, just refer to the red star on the Heineken glass
See the horizontal line of the red star? That's where the foam level starts. Nothing more, nothing less.
Not many people know this, but having the right amount of foam is important as it protects your beer from oxidation. That's how you keep your beer tasting fresh and crisp for a longer time.
8. Heineken was one of the first brewers to sell their beer in green bottles
The first few brewers to sell their beer in bottles all sold them in brown ones. Wanting to distinguish his beer from the rest, the founder decided to sell Heineken beer in green bottles - the same shade as the ones we see in the stores and bars now!
9. Some of these bottles can be used to build houses too
These are called WOBO bottles, which were commissioned by the Heineken founder's grandson to help the poor people of Curaçao build houses using upcycled materials.
Unlike the usual beer bottles, these have flat surfaces on all sides and a concave bottom. The features allow the bottles to be used like LEGO bricks, interlocking with each other for stability. He even tested the bottles by building a prototype house!
And this was done in the 60s, before sustainable housing became a hot topic!